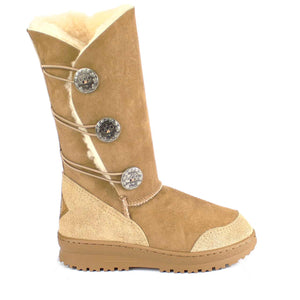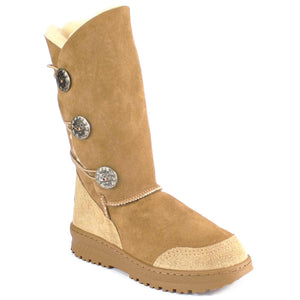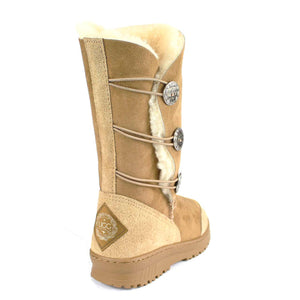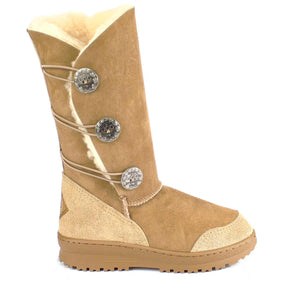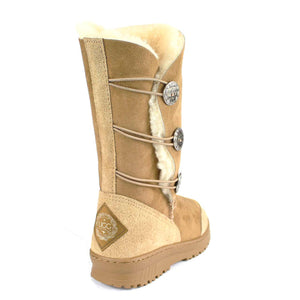 UGG
BONDI LONG BRIGHTON BOOTS CHESTNUT
DETAILS
Our 'UGG Bondi Long Brighton' boot has our classic brass button detail with the Thermo Plastic Rubber sole that has superior grip and is resilient to -40 degrees celsius. Perfect for getting around, indoor and out. 
ALL of our UGG Australia® products are 100% Australian made, here at our factory in Laverton North, Melbourne, that's our guarantee to you. Our boots are made of high-grade Genuine Australian double-face merino, sourced sustainably from local farms and processed ecologically at our own Tannery, right here in Melbourne, Australia.
Our UGG Australia® luxury products are made with our premium hand-selected merino lambskins to ensure the highest quality boot is made for you. Our merino lambskins for our UGG Australia® boots are quality-checked for marks & scratches. All of our merino lambskins are natural and are produced in our LAST sheepskin footwear tannery in Australia. We are 100% Australian Made & Owned.
This product can vary in colour as it is handcrafted and is made from natural materials. 
FEATURES
100% Australian Made Sheepskin UGG Boots
100% Australian Merino Sheepskin
Three Brass Button details with easy elastic fasteners
Resilient up to -40 degrees celsius
Superior Grip and Reinforced heel and toe
Long length for superior warmth
Upper/Inner: 100% Australian Merino Sheepskin
Sole: Thermo Plastic Rubber Sole
Country of Origin: Australia