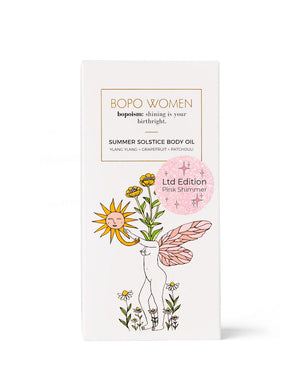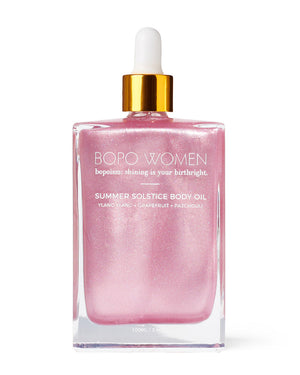 BOPO WOMEN
Summer Solstice Body Oil PINK SHIMMER
 For a limited time our Summer Solstice Body Oil has been Barbie-fied and is available in this gorgeous pink shimmer version. With the same delicate floral scent that you know and love, thanks to the beautiful ylang ylang, grapefruit, mandarin and sweet orange. Deeply hydrates skin while leaving a pearlescent, illuminated soft glow that works well with all skin types. Can also be used in the bath. Make sure to regularly shake this product before use to get the most out of it's glittery magic.
WHY BODY OIL?
Unlike traditional moisturisers and lotions, body oils are more easily able to penetrate the skin's surface and infuse it with the vitamins, fatty acids and antioxidants that rejuvenate and restore.
Oil also acts as a final occlusive layer which locks in the moisture you apply to your skin and acts as a defence against harsh environmental and lifestyle factors.
Many moisturisers tend to actually have a very low amount of effective or active ingredients and are supplemented with high water levels. Oil delivers far more concentrated and natural nourishment to your skin and if you haven't tried a body oil before you'll definitely notice the difference!